Varsity wrestlers capture first league title in school history (Photo)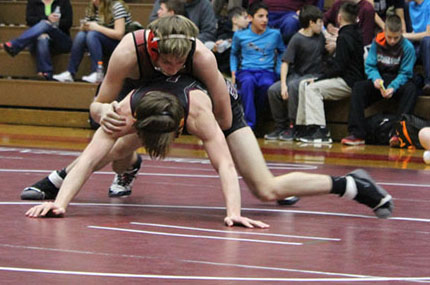 Hang on for a minute...we're trying to find some more stories you might like.
#RecordYear is the trend on social media among the varsity wrestlers, and they are accomplishing just that.
"Our coach Gary Keener came up with [#RecordYear]. Coach always gives us a saying in the start of the season, and it is very motivating," senior Ryan Green said. "It feels great to be fulfilling it – it feels like we are all doing our job. It also shows all of our hard work in the offseason pay off."
After starting on top of the leaderboards but then falling second to Blue Mountain by only a half point in the 2016 league meet, the team was more than ready for this year.
"Losing against Blue Mountain last year was not fun, to say the least," junior Mike Saint Juste said. "We learned from our mistakes. Coach Keener made sure to remind us as much as he could to get comfortable, and we wrestled hard this year and got the job done."
With four gold medalists and the accumulation of 216.5 points, the team's victory was a landslide, with runner-up Upper Dauphin scoring 173 points. Gold medalists consisted of Nativity freshman Wiley Kahler, Nativity sophomore Nick Onea, junior Cole Painter and senior Richie Bentz.
"The day right after last year's tournament, we got right to work for this year," Painter said. "We came into this year feeling really confident, knowing that we put in all the time and flipped over every stone we could to accomplish this goal. Fortunately for us, everything went right and we came out on top."
This was not just any Schuylkill League title for the varsity wrestlers; it was the first in school history.
"One word to describe how winning the first Schuylkill League title in school history feels has to be proud. All of the effort put forth by the wrestlers, teachers, school board, boosters, coaches, parents, friends and all of the hundreds of supporters was phenomenal," Mr. Gary Keener, varsity wrestling coach, said. "This title was for the community and earned by a collective group effort."
This is a moment that everyone involved will not soon forget.
"Being a part of the team who won the first Schuylkill League title in school history is an amazing feeling," senior Kory Kleckner said. "This moment is definitely at the top of my high school memories."