Senior receives $10,000 scholarship (photo)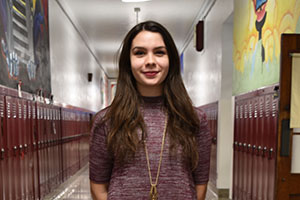 Hang on for a minute...we're trying to find some more stories you might like.
Senior Jessica Wensus recently received the $10,000 Horatio Alger National Scholarship. Wensus found out about this scholarship through Upward Bound, a club for first generation college students.
"I am more than glad. Christina Slocum, Assistant Director of TRIO Upward Bound at Bloomsburg University, actually recommended that I complete this scholarship, and the deadline was extended by a day, so I figured it was a sign. Also the fact that I am trying to minimize my debt from the cost of college is why I got it done. For me, this is a pretty big achievement, but anyone can win a good scholarship if they apply. Never be discouraged to apply for a scholarship. All they can say is no," Wensus said.
There were numerous qualifications for the award. Wensus had to fill out multiple questions, write two essays and Mrs. Mary Beth Conville, school counselor, recommend her for this scholarship. With Mrs. Conville's help, Wensus was able to meet the deadline for this scholarship.
Wensus will use the award when she attends either Wilkes University or Butler University to major in political science with a minor in journalism.