ETC with Chloe Kline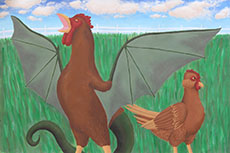 Hang on for a minute...we're trying to find some more stories you might like.
Senior Chloe Kline created three pieces for her AP Studio Art portfolio, with mediums ranging from colored pencils to charcoal. Kline's pieces, entitled "Neptune," "Basilisk on the Farm" and "Spot," show the different techniques she used throughout the class. After high school, she wants to major in studio art and either be a museum curator or an illustrator.
What is your favorite piece that you submitted to ETC?
"My favorite piece was the one with the hermit crab. It was fun to draw, and it was my first time drawing with charcoal. It was a new, challenging experience."
Which piece did you have the most fun creating?
"I had the most fun working on the art piece with the dog. I used two different mediums, colored pencils and graphite pencils. It was difficult to not smudge one color with the other, like the black and white."
When did you become interested in art?