What's the deal with water bottles in school? (photo)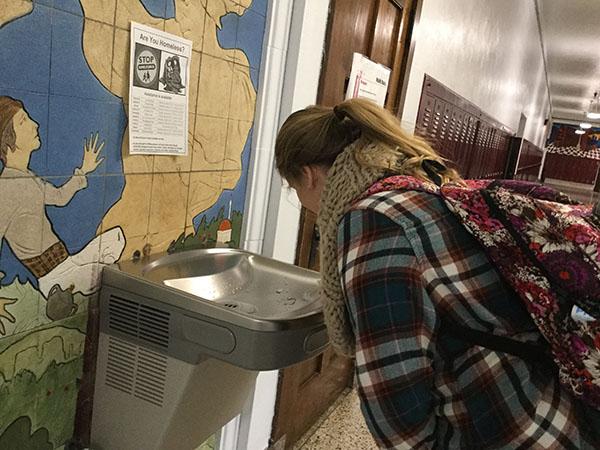 Hang on for a minute...we're trying to find some more stories you might like.
While sitting at their desks in their classrooms, students listened to the announcement that said they are now not allowed to carry water bottles in their backpacks in school.
"I hate not having a water bottle [in school]. Having a bottle makes it a ton easier than going out into the hall, and it doesn't take away from the learning zone," junior Bailey Warunek said. "I get the rule as other kids sneak in drinks other than water, but not all kids should be punished."
One may still carry a water bottle around in school, but he needs a doctor note first. This is now a rule due to issues in the past concerning what was actually in some water bottles.
It is a long school day – seven hours, to be exact. Without drinking any water, staying focused may become more difficult. Being dehydrated also makes one feel tired. If students were allowed to carry water on them, they would most likely be more aware and focused.
Athletes also need to drink water throughout the day to get ready for an upcoming game or match. Drinking enough water is important for doing well during games outside, especially when it is hot out. Imagine trying to run the cross country route after a long day of school with no water.
"One particular reason [why water bottles are not allowed in school] is there are water fountains strategically placed throughout the buildings. Another reason is students have a history of making a mess in the hallways with food/drinks," Mr. Raymond Yost, dean, said. "Lastly, administration, faculty and staff are not opposed to the use of water bottles if students need them for medical purposes."
There are water fountains on each floor. The only problem is, the water fountains around the school do not always work.  Drinking from a water fountain is the alternative to carrying bottles of water, but it may not be convenient when water fountains are not working.
Additionally, water fountains could spread illnesses around to students, especially during the flu season right now.
"How are students supposed to get eight glasses of water a day when teachers get mad when you ask to get water? When or if you do actually get to a water fountain (preferably without gum), the water itself is not 'visually appealing.' If you fill a water bottle, it sometimes looks brown," sophomore Victoria Oswald said.
It is strange that students are permitted to bring their own water in for lunch without a doctor's note, but they cannot carry it around during the day.
While there are reasons why water bottles are not allowed, it does not make sense to ban a basic human need in school. Many students are more energized when they have water in them.