The Brilliant Bohemian Rhapsody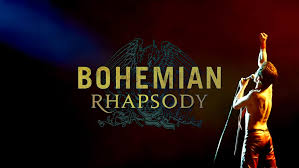 Hang on for a minute...we're trying to find some more stories you might like.
Bohemian Rhapsody is a movie covering the backstory of the well-known rock band, Queen. The movie begins with a scene of Freddie Mercury, played by Rami Malek, walking proudly and energetically towards the stage for a performance at Wembley Stadium in England. The film then transitions back to 1970, in Freddie's household, where he once again makes plans to go out to see a band perform, even though his parents do not approve. He eventually meets with the band after the show and demonstrates his talented voice. This impresses the band and leads to the unity of the members of the soon to be Queen.
Throughout most of the movie, viewers are given a great view of Freddie's life during the era of Queen. The movie rarely focuses on the other band members, which leads to more detail shown about Freddie. Because of this, many of the band's issues come up and spark more entertaining and rather intense moments. The band is shown to have many problems dealing with management, album and song releases, song productions and even some conflict with other significant music icons.
The movie shows how many Queen songs were created. The struggle and hard work put into each song can be better understood and more appreciated from watching it. The film contains many iconic songs such as: Somebody to Love, We Will Rock You, Killer Queen, Don't Stop Me Now, and, of course, Bohemian Rhapsody. It also showcases real footage from live performances from Queen tours and shows. Many locations and other characters, such as Michael Myers, make appearances and play important roles in some scenes.
Many others may feel differently about the movie than I do. "To be honest, I didn't care for Bohemian Rhapsody much. I know Freddie was always flamboyant, but it focused way too much on his sexuality, and it kind of portrayed him as a self-centered person. It should've put more focus on him overall and his dynamic with his family and bandmates. I give it a 6 out of 10," said freshman Brock Regnier.
Overall, Bohemian Rhapsody definitely got Queen fans, such as myself, excited to go out to see a movie. As arguably one of the most famous bands in history, Queen, without a doubt, deserved a film to capture the passion of their music and to show the dedication of the band and their fans.